A library that provides access to the local file system on the device.
---
expo-file-system provides access to a file system stored locally on the device. Within Expo Go, each project has a separate file system and has no access to the file system of other Expo projects. However, it can save content shared by other projects to the local filesystem, as well as share local files with other projects. It is also capable of uploading and downloading files from network URLs.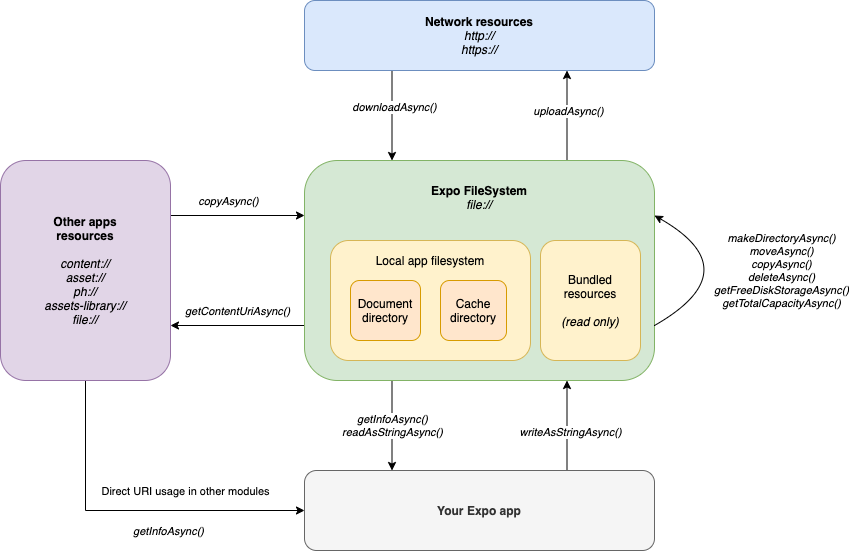 If you're installing this in a bare React Native app, you should also follow these additional installation instructions.
Are you using this library in a bare React Native app?
The simple server in Node.js, which can save uploaded images to disk:
The following permissions are added automatically through this library's AndroidManifest.xml.
No permissions required.
import

 

*

 

as

 

FileSystem

 

from

 

'expo-file-system'

;



The API takes file:// URIs pointing to local files on the device to identify files. Each app only has read and write access to locations under the following directories:
So, for example, the URI to a file named 'myFile' under 'myDirectory' in the app's user documents directory would be FileSystem.documentDirectory + 'myDirectory/myFile'.
Expo APIs that create files generally operate within these directories. This includes Audio recordings, Camera photos, ImagePicker results, SQLite databases and takeSnapShotAsync() results. This allows their use with the FileSystem API.
Some FileSystem functions are able to read from (but not write to) other locations.
A SAF URI is a URI that is compatible with the Storage Access Framework. It should look like this content://com.android.externalstorage.*. The easiest way to obtain such URI is by requestDirectoryPermissionsAsync method.
In this table, you can see what type of URI can be handled by each method. For example, if you have an URI, which begins with content://, you cannot use FileSystem.readAsStringAsync(), but you can use FileSystem.copyAsync() which supports this scheme.
On Android no scheme defaults to a bundled resource.